Homemade Cuisine with Plenty of Oita's Specialities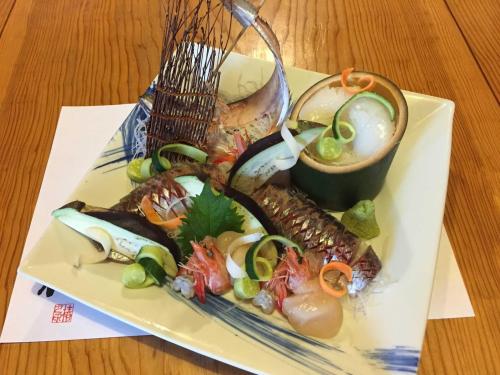 We serve a creative traditional multi-course Japanese dinner which is all homemade.
It is a cuisine that enjoy the taste of Yufuin through the four seasons.
Flat fish, mackerel, horse mackerel, blowfish, carp shrimp, conger pike, eel, soft?shelled turtle, sweetfish, Bungo beef, boar, chicken, duck, mushroom, mountain vegetables, Kabos citrus etc.. we use those Oita's specialties. Every single bites, you will be fulfilled with the beautiful taste.  
In addition to the taste of the dishes, cuisines are all beautifully presented in Japanese traditional dish Arita-yaki, so you can also enjoy the meal with your eyes.
Dinner Starts from 18:00 or 18:30.
*
Guests must check in by 18:00 to eat dinner at this property. Guests who check in after this time may not be served dinner, and no refund will be given.
Dinner Menu - Example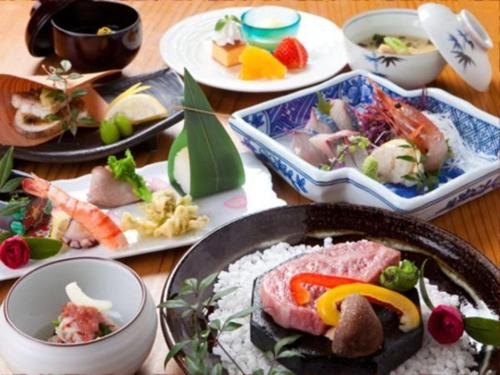 Aperitif  |  Plum wine cocktail 
Appetizer  |  Rape blossoms and crab with plum sauce
Appetizer platter |  Bamboo shoot sushi, Grilled octopus with lemon, Roasted duck, Grilled salted shrimp, Tempura 
Fresh slices of raw fish |  Mackerel, Adductor muscle, Shrimp
Soup  |  Shrimp cake soup
Lidded dish  |  Savory steamed egg custard with bamboo shoot 
Grilled dish  |  Tilefish grilled on cedar plate
Special Main dish  |  Black hair cattle steake
Rice  |  White rice
Soup  |  Red bean paste soup
Pickles  |  Seasonal pickles 
Dessert  |  Today's dessert 
Breakfast Menu - Example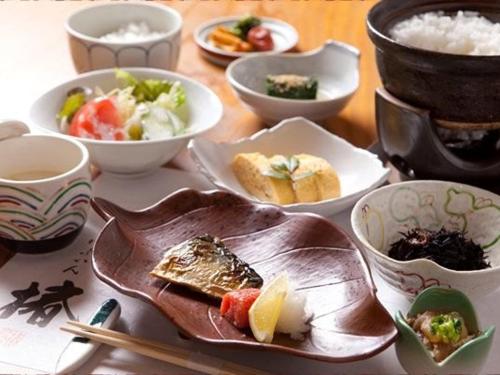 We will cook the rice one by one using specially customized rice?cooker pot.
*Photos are for illustration purpose only. Ingredients and menu will be changed seasons.